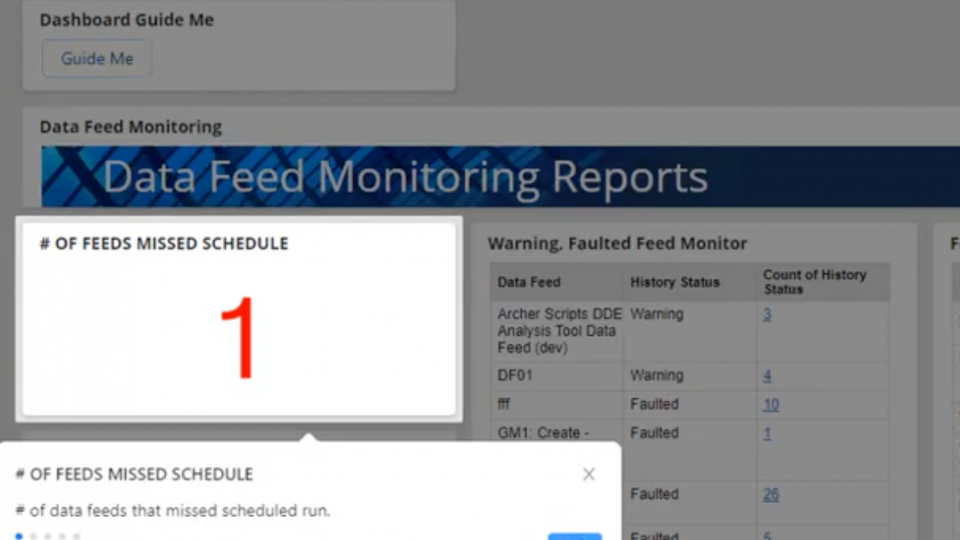 The Guide Me solution is a powerful tool for Archer users that provides a tour guide view of the platform's various components. The dashboard version of the solution, which is demonstrated here, highlights an iView with instructions, it allows users to easily navigate and understand the functionality of different iViews on a given dashboard.
Users can trigger the guide by clicking the Guide Me button. The iViews will then be highlighted with instructions in the pop-up window. Users can navigate through all the iViews that are included in this feature.
This solution is particularly helpful for new Archer users, as it allows them to quickly understand the information presented in the iView, or if it's task-based reports, it guides them through the procedures and instructions needed to complete their tasks.
Admins can easily configure the iViews that the tool will highlight, as well as the accompanying information text, by simply entering the name of the iView and the desired message in this configuration section.
If you are interested in this solution, please do not hesitate to contact us at info@ArcherScripts.com. We look forward to hearing from you soon.
Video Demo: