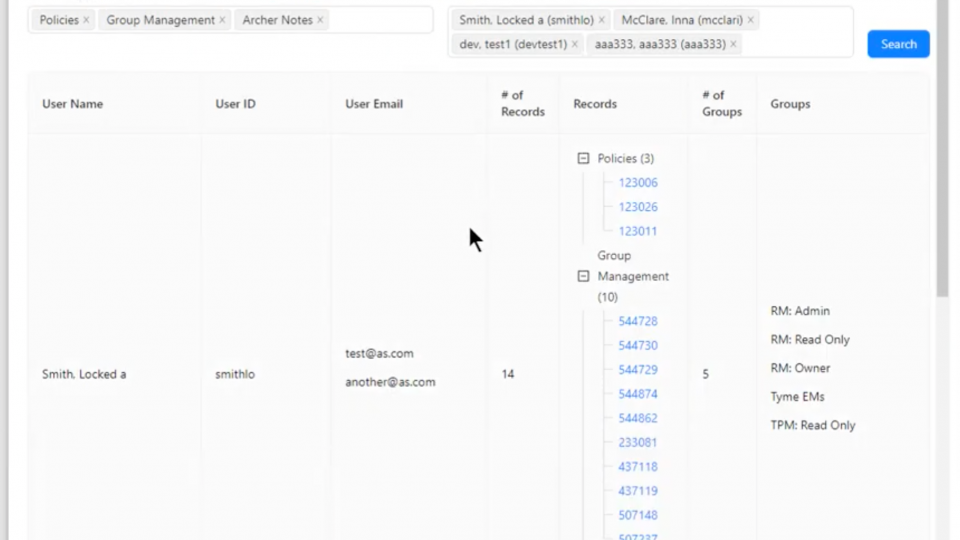 Inactive User Management Tool
The Inactive User Management Tool is designed to assist Archer administrators and business teams in identifying records where inactive users are selected. With this tool, teams can take timely action to replace inactive users and ensure that business processes are not delayed or disrupted.
The tool offers a flexible approach that allows business administrators to search for inactive users and review affected records in multiple ways. Business administrators can choose to search for all inactive users or selective inactive users against all or selective applications.
For example, if a business administrator is managing 5 applications and wants to see if there are any inactive users in any of them, they can select the 5 applications in the application section, select all inactive users by clicking "Select All" under the inactive user section, and then click "Search." The tool will quickly scan through all records and list the record IDs per application. It will also list the groups where the inactive users are in.
Another use case is when a system administrator or business administrator knows that a particular user has left the firm and became inactive. They can use the tool to quickly find where this user is selected in any given applications and replace the user as needed. For example, if a system administrator knows that Smith has recently left the firm, they can pick Smith under the Inactive user section, select the applications they manage, in this case, they can select all applications in the system, then click "Search."
The tool will quickly scan through all applications and display the records that have Smith selected per application.
Please contact us if you are interested in this solution at info@ArcherScripts.com. We look forward to hearing from you soon.
Video Demo: