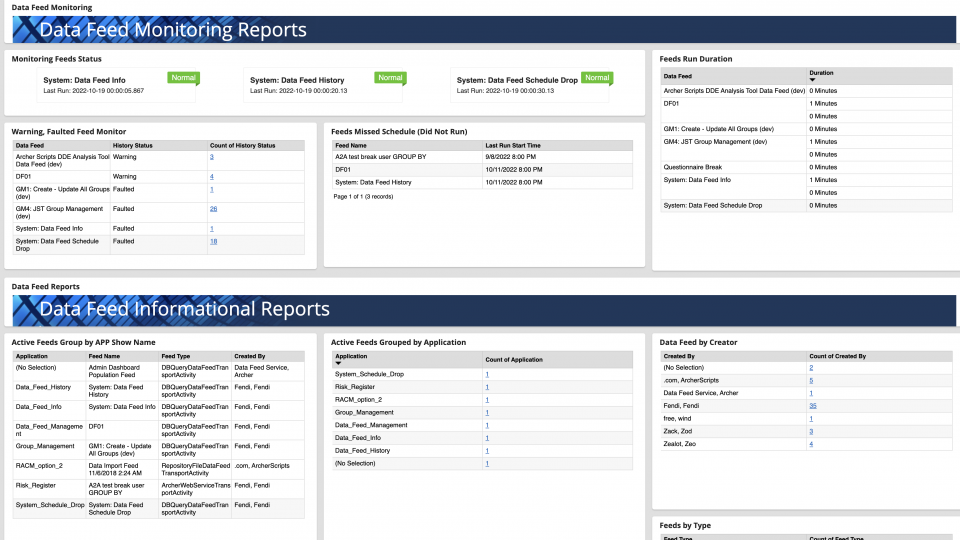 Data Feed Monitoring Solution
Helps organizations monitor data feed status, schedules (miss/drop), execution durations, and much more! 
Features:
Automatically displays all faulted feeds in recent runs, and feeds that finished with warnings. So your Archer admins can take actions to fix them proactively.
Supports notifications to alert Archer admins.
Automatically detects any data feeds that stopped running (missed schedule). Business processes get disrupted when feeds stop running unexpectedly and unnoticed. This happens quite often, especially for frequently scheduled data feeds (e.g., every few minutes).
Displays feed run duration and helps admins to identify abnormal executions, or system performance issues.
The report section shows data feed informational reports. A few examples: Feeds grouped by target applications; Feeds by Creator, Feeds by Type; Inactive data feeds.
Bonus feature, schedule timeline, to show all feeds on a timeline view for optimizing schedules.
Video Demo: