Holiday Gifts from Archer Scripts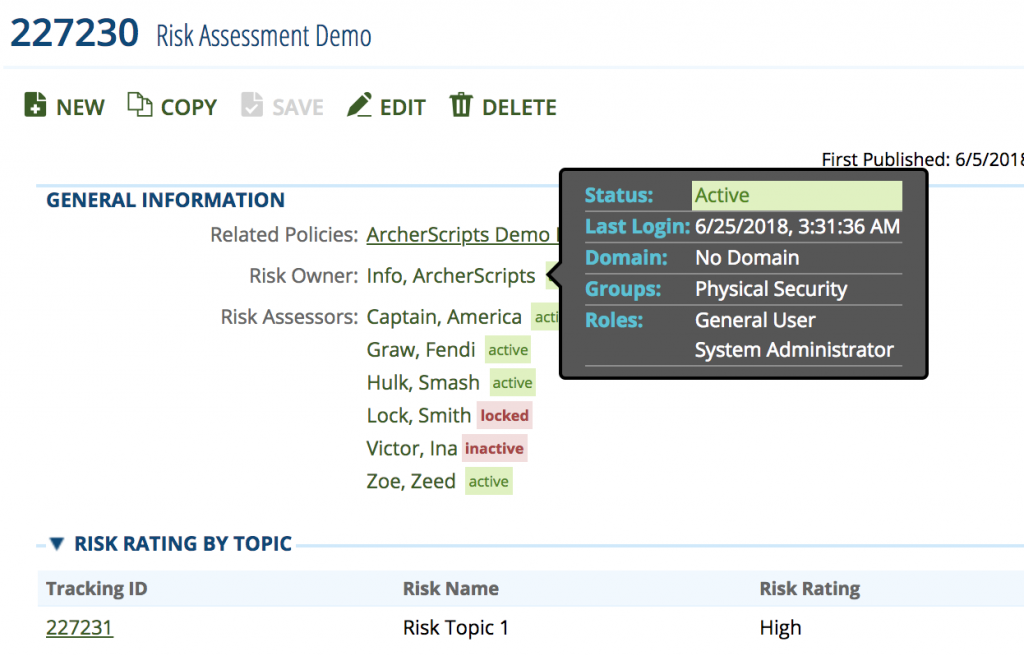 Dear customers and friends,
We at Archer Scripts have been working very hard to come up with innovative solutions for the Archer community. We thank you for all your supports, partnerships and feedback on our products. As an appreciation in the holiday season, we will give one of our most popular solutions, "Archer Scripts User Status Indicator and Tooltip" as a free gift for companies who are interested.
The solution adds a User Status label next to user names in user/group fields within your Archer records. It also provides a mouse-over triggered popup tooltip displaying user info including last logon, groups, role (admin only). It helps business to identify inactive users right within an Archer record, so actions can be taken right away.
See more details here: https://www.archerscripts.com/advanced-user-information-tooltip/
This solution is also listed on the RSA Exchange: https://community.rsa.com/docs/DOC-100960
We will start to send the solution to our existing customers in the next a few days. For companies that are not currently our customers, if you are interested, we also got you covered. We build each copy of solution dedicated to our client's Archer host domain name, so we will need the following information before we can send you the free copy of the licensed product.
Please send the following information to info@archerscripts.com.
Company Name:
Your Name:
Archer Instance Host Domain: *

* Archer Instance Host Domain (you can provide multiple of them): For example, if your Archer instance can be accessed at http://www.company.com/archer/, you just provide the text of "company.com" and if it's a direct host machine name, it's also fine, for example, it's http://test-local-host/, you just provide the whole text of "test-local-host". We are not going to send any malicious data to or from your instance, the reason is that all our solution only works on the allowed hosts built into the license.